Yesterday we saw markets trade down heavily as US retailer Target reported disappointing first quarter results. The 'Big Box' retailers stock dropped -25% sending shockwaves through the markets on initial reads of a slowdown in the US consumer. However, as is so often the case, the facts of the matter are considerably different from what the headlines would suggest. Digging deeper into Target's and its peers' results, what becomes clear is that we are seeing a shift in consumer dollars as opposed to a wholesale slowdown in consumer spend.
Target's sales growth, at +4%1 year on year (YoY), was not only better than consensus expectations, but same store sales growth was double the expected rate. Evidently, the amount spent by the consumers in Target's stores was higher than expected. This story was repeated by Target's peer group with Walmart similarly beating expectations and Amazon's North America sales increasing +8%1. So, with robust demand we must ask what went wrong and why has it spoked the market?
The answer, with regards to the company, is profitability or lack thereof. Target's profits plummeted as margins contracted with gross and operating profits falling -10%1 and -44%1 on increasing cost pressures. Driven by wage inflation due to the tightest labour market since the 1960s (typically a sign of a hot economy), increased freight costs from burgeoning fuel prices, and significant supply disruptions in which Asian lockdowns are a key factor. However, as the scale of Target's share price drop suggests, there was more to it than this.
Crucially, both Target and Walmart reported substantial inventory build ups, increasing +43% and +32% respectively YoY, or +9% and +8% sequentially (QoQ). The retailers had been forced to purchase and hold additional stock (risk) to buffer against logistics delay. However, it now appears they misjudged the nature of demand, i.e. the type of goods consumers are purchasing. In the words of Target's CEO, "this led us to carry too much inventory, particularly in bulky categories, including kitchen appliances, TVs and outdoor furniture". In short, they over stocked on the big ticket goods consumers were purchasing during the COVID lockdowns and work from home era. This then meant overstocked items were then discounted further hurting margins.
Interestingly, Target's management were emphatic that they did not see any sign of a consumer slow down, a sentiment that was echoed by Amazon's CFO highlighting that "there's no indicators that we're seeing of weakness in consumer demand". Rather, they are seeing consumers' dollar shift towards more "open economy" items such as luggage, beauty products and consumables. This corroborates data from other companies' results that show we are witnessing a significant shift in consumption patterns, away from goods and towards experiential spend. As travel companies such as Booking.com reported bumper results with dollar bookings on their platform nearly a third higher than 2019 levels, showing that travel has more than recovered from COVID. The managers of the Dominion Global Trends Funds had pre-empted this consumption shift having, early this year, increased exposure to experiential and travel spend. Even as we note that a portion of this demand is pent up and will fade.
Big Picture: A rich consumer
Stepping back and looking at the bigger picture we observe that the global consumer's fiscal position is remarkably strong, aided by the potent  mixture of low debt levels, very high excess savings and increasing wages. For instance, US household debt to income level remains close to 20 year lows at 85%2, or 74%2 of GDP. This picture of health is echoed around the world with China and EU household debt to GDP at a lowly 62%3 and 52%4 respectively.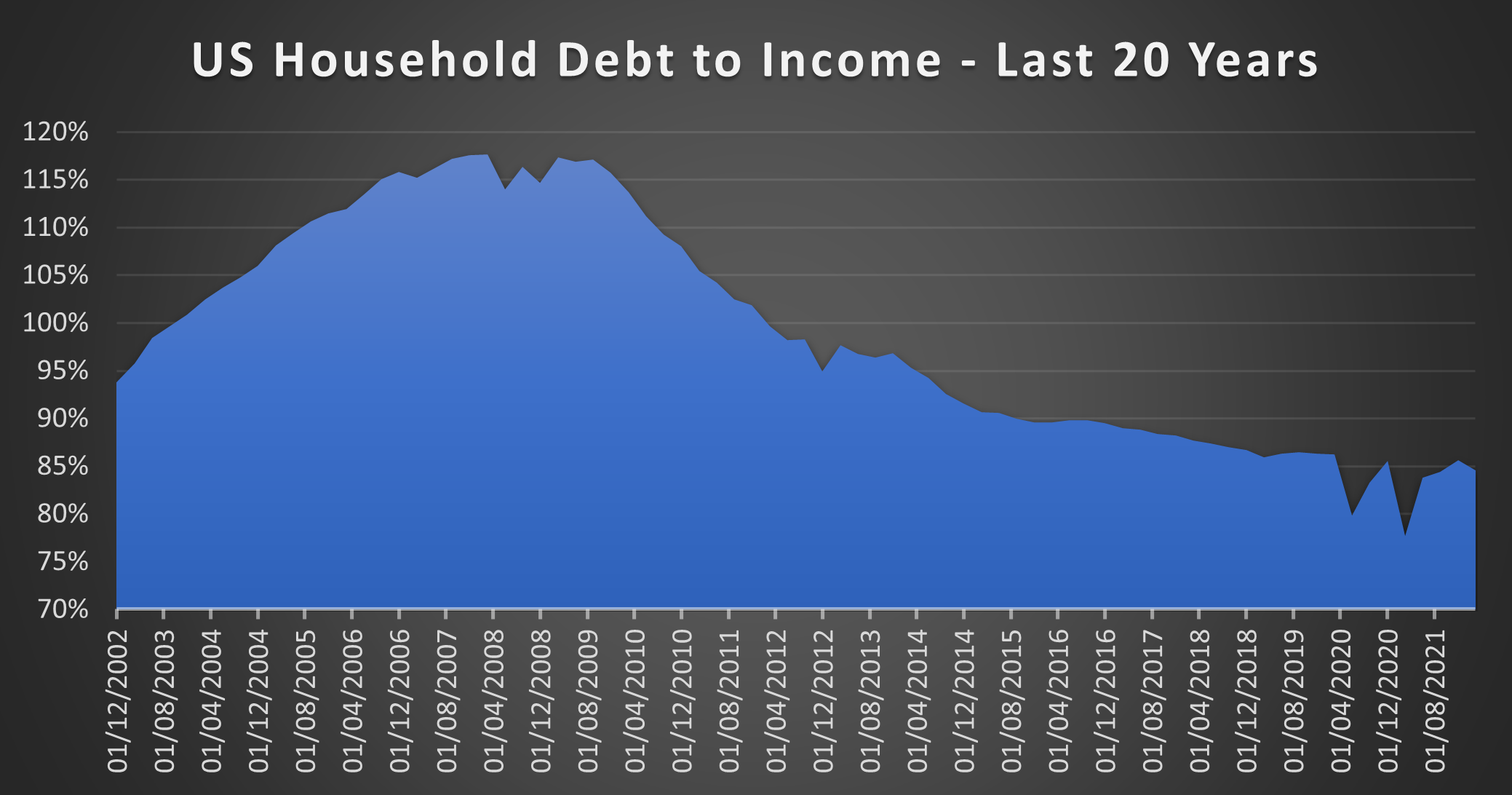 The bank accounts of US households have an astounding $3.3 trillion5 of spare cash (excess savings), a full quarter above 'normal' levels. While total savings, at $17 trillion5, are nearly triple 2008 amounts. This is the opposite of a distressed consumer. Against this backdrop, a consumption or debt meltdown, as witnessed in 2008 and intimated by some of yesterday's price moves appears highly improbable.
Bigger Picture: A macro perfect storm. Is it time to "be greedy when others are fearful"?
Regardless of the underlying strength of the consumer the negative Target headlines were fed into a market backdrop that is best described as a wall of worry. A protracted war in Europe driving up commodity prices, draconian Omicron lock downs in China, persistently high inflation, fears of recession and central banks playing catch up by raising rates led by an increasingly hawkish Fed (where Chairman Powell continues to do his best Paul Volcker impression) suggesting that may be in the midst of another taper tantrum. Have all combined to create a near perfect storm in terms of Macro news.
Even as some of these factors are abating with Chinese lockdowns being gradually lifted and inflation is expected to moderate in the second half of the year, investors have been jolted. They have reacted accordingly, taking risk off the table across the board (Equity and Bonds) while investment horizons have contracted to a few months. This has meant that investment quality, structural growth differentiators and even valuations have mattered little. But the disregard of such critical factors is always a short term phenomenon. In the long term real fundamentals always supersede emotion driven sentiment. It is telling then, that legendary investor Warren Buffett has embarked on a spending spree ploughing nearly $51 billion6 into stocks since the start of the year. He is evidently being true to his ethos of being "greedy when others are fearful".
Dominion's ethos echoes Buffet's but geared towards growth at a reasonable price as opposed to value investing. The Dominion approach is about investing in structural growth and not trying to second guess economic cycles. The rationale behind such an approach is that by doing so the companies that the DGT funds invests in will prove resilient in the face of deteriorating cyclical conditions, whether inflation, interest rates or economic cycles, and deliver superior consistent long term returns. Indeed, the current declines in equity markets combined with consistent earnings growth from portfolio companies mean that the Dominion Global Trends Funds now trade at multi-year low valuation levels while still forecast to produce strong double digit growth.
Sources:
1 Companies reports
2 Federal Reserve & US Bureau of Economic Analysis
3 Bloomberg Economics & National Bureau of Statistics China
4 CEIC using ECB and Eurostat data.
5 Longview Economics
6 Financial Times